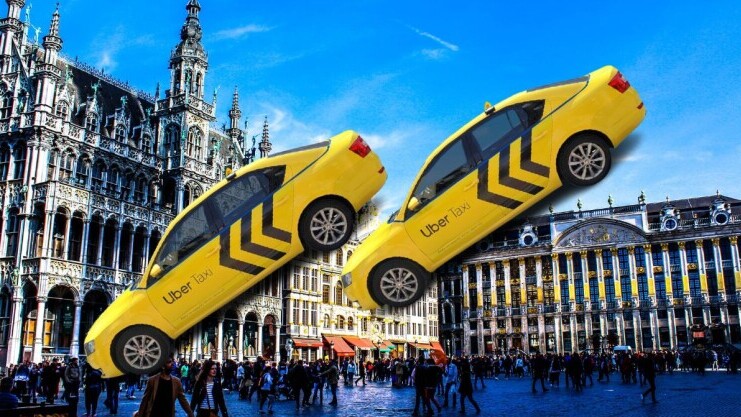 Story by
Ioanna is a writer at TNW. She covers the full spectrum of the European tech ecosystem, with a particular interest in startups, sustainabili Ioanna is a writer at TNW. She covers the full spectrum of the European tech ecosystem, with a particular interest in startups, sustainability, green tech, AI, and EU policy. With a background in the humanities, she has a soft spot for social impact-enabling technologies.
Uber will be forced to halt all operations in Brussels from November 26, following a ruling issued by the city's Court of Appeal on Wednesday, De Stanaard reports
While this blow to the ride-hailing giant's business might come as a surprise to some, it has been brewing for over six years.
Uber entered Brussels in 2014 with UberPop, where private individuals could register to transport people for a fee. But a year later, local taxi company Taxis Vert filed a lawsuit against it and the court ruled that such a service didn't comply with regulations.
Uber reformed its services in Brussels following the suit and has since only worked with drivers who have an VVB professional license — the same license held by limousine drivers. 
But that doesn't seem to have appeased courts, as they've now ruled that the 2015 cease-and-desist order also applies to the VVB drivers who work for Uber.
What does this mean for Uber drivers in Brussels?
According to an official statement by the company, almost 2,000 drivers will loose "their opportunity to generate income."
"De facto this concerns 95 percent of our drivers," told an Uber spokesperson to De Standaard.
Following the news, many Uber drivers have taken to the streets in Brussels to protest the new ruling.
"More than 2,000 drivers have to support their families, pay their rent and the credit for their car, just like all other drivers. But apparently we are illegal," said a driver to local news outlet Bruzz. "Technology is advancing, but we just keep going backwards. That is not normal. I have no words for it."
Do not #drive to #Brussels today, cause #uber drivers are blocking all main roads. Here Rue de la Loi. #news pic.twitter.com/1RVgPDUtfl

— Decio Denis Bernardo (@DecioBernardo) November 25, 2021
Laurent Slits, the CEO of Uber in Belgium, was understandably not happy about the decision. He made his stance crystal clear in a statement, calling out Brussels' backwardness:
This ruling is based on outdated regulations that predate the arrival of smartphones and which the government has promised to reform for seven years. We are very concerned because 2,000 Brussels VVB drivers will lose the opportunity to generate income from Friday.

We urge the Brussels government to reform the sector quickly so that drivers can continue to work and provide livelihoods for their families.
What does this mean for Uber's future in Europe?
This latest clash in Brussels is just the latest one in a long line of incidents. The company has fought a series of legal battles across Europe over how it employs its drivers, how it fits within regulations, and whether it unfairly competes with local taxi associations.
Let's name a few examples:
In September, the Amsterdam civil court ruled that Uber drivers fall under the Dutch taxi drivers' collective labor agreement — meaning they are entitled to the same employment benefits as taxi drivers.

Uber was forced to adjust its practices in 

Germany

 in 2019 in order to comply with national regulations and avoid a country-wide ban.

In 2017, the company was forced to briefly halt its services in Italy after a legal battle with the country's taxi associations.
To put it simply, Uber's growth in the European cities hasn't been as easy as the company probably wished.
The EU isn't really in favor of the gig economy model Uber represents, and besides that, Uber must take into account that operating in gray regulatory areas won't actually bring profit in the long term.
Although it's also fair for the company's representatives to point out that legislative frameworks need to consider and adapt to current technological capabilities. But hopefully they don't need to sacrifice people's rights to do so.
Get the TNW newsletter
Get the most important tech news in your inbox each week.
Also tagged with