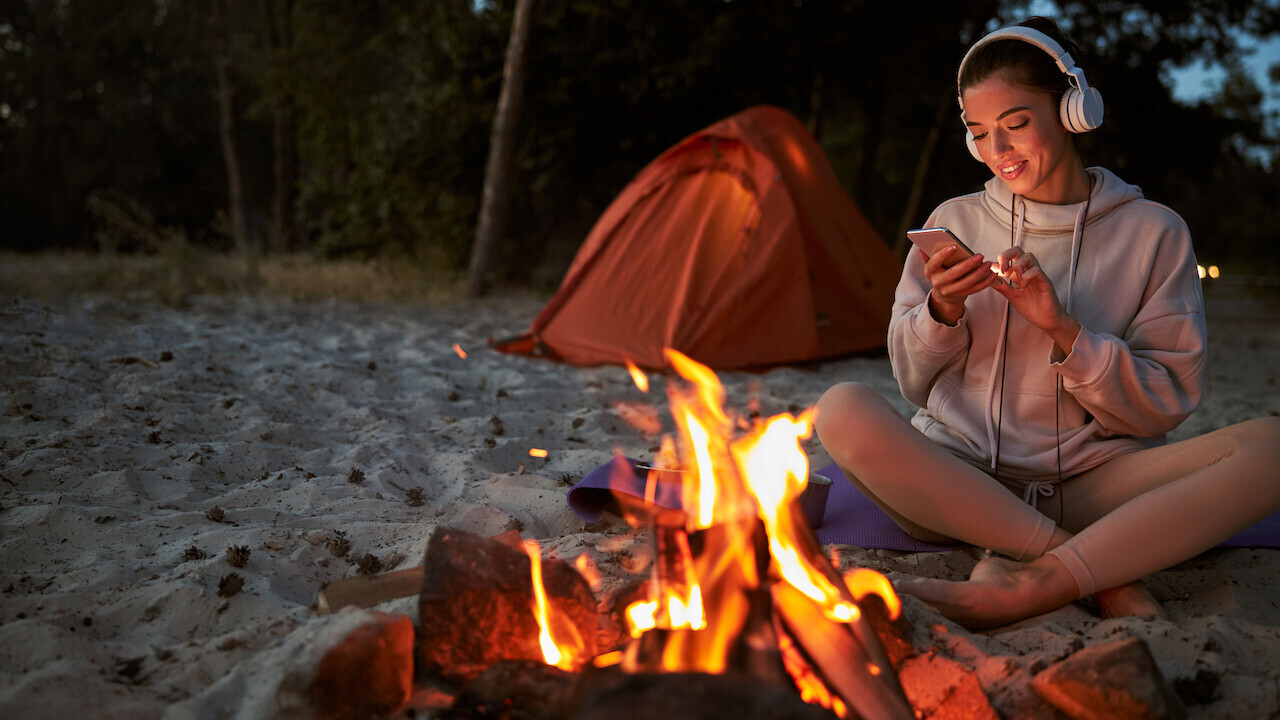 The reasons you'll want to stay connected while traveling are pretty obvious: unless you're planning an Into the Wild style off the grid experience, you'll probably want to be able to use your data to find your way around, buy tickets, upload photos onto social media, fire up that local dating app, or whatever you like to do while abroad.
But, international data and calling rates can place a hefty burden on your travel budget, not to mention roaming fees which vary with every border you cross. That's why buying physical SIM cards has been the option of choice for many travellers, until now.
Today, we're finally entering the age of electronic SIM cards, better known as eSIMs, that store your phone's data in the cloud and can be installed and switched virtually. Basically an eSIM is a SIM card that's embedded directly into your device and can connect to any operator offering eSIM services. For travellers, this is good news because it means you can also buy prepaid cards for any country or region you plan to visit online before your trip. And there are now a number of options available such as Holafly eSIM.
We've compiled this handy guide with everything travellersneed to know about eSIMs in 2023:
The pros of eSIMs vs physical SIM cards
1. Convenience
First and foremost, the biggest benefit to eSIMs is that you don't have to go to a physical store or even be in the country to purchase your data. Instead, you can shop online, choose a provider, and install it directly onto your phone (more on that later). This means that the moment you hit the ground you'll be connected, making it easier to order an Uber, find your way through a complex tube system, or just find the nearest bar with a happy hour.
Then, once you're back home, you can just switch back to your local eSIM in a few clicks (don't worry, we'll share tips on that too).
2. You can use multiple eSIMs
This is also a convenient option if you travel between countries often. iPhones that support eSIM allow you to have multiple cards and even use Dual SIMs, meaning you can have two activated at the same time.
For example, if you're crossing borders back and forth on a regular basis, having Dual SIMs activated would allow you to automatically use whichever SIM is locally connected, without having to change your settings. You can also buy an eSIM for an entire region, for example, buying an eSIM for Europe will cover a number of different countries.
3. A future without SIM trays?
iPhone 14 is planning to axe its SIM tray in the US, meaning iPhones now and in the future won't be able to carry physical SIMs.
Although, of course, Apple isn't the only brand for devices, it won't be surprising if others follow suit and slim down future smartphone models even more. So, cutting SIM trays could become a wider market trend.
4. Don't lose your data
With an eSIM, there is no physical SIM card that can be lost or damaged. So if your phone does get stolen, lost, or broken while on vacation, you can still access your data via the cloud and transfer it to your new phone.
5. Sustainability
Finally, if you're looking to cut down on plastics as much as possible, why bother with physical SIM cards?
And yes, SIM cards are super tiny, but it's like quitting the use of plastic straws: every bit counts.
The cons of eSIMs vs physical SIM cards
Of course it's not all sunshine and daisies in eSIM land. There are some drawbacks to consider before going for this option:
1. Compatibility
Although eSIMs are a growing trend, not all devices or cellular carriers are up to speed yet. While most carriers have adopted eSIM, some still haven't or don't support all devices yet.
For example, if you're headed to Spain, keep in mind that Yoigo doesn't support eSIMs for Apple Watch. However, as mentioned before, it seems the general trend is moving towards eSIMs so we'll see more carriers introduce plans to adopt this technology in the near future.
2. Location tracking
As eSIMs are installed virtually onto your phone, you can't remove them from your device like a physical SIM. This means you also can't avoid the possibility of being tracked by mobile carriers/governments. If this is a concern for you in the country you're traveling to, then you might want to avoid this option.
How to check your phone's compatibility with eSIM
Before making any decisions, you first need to check if your phone is compatible with eSIM. Follow these steps:
Check the phone's specifications or manual to see if it supports eSIM.
Check if your phone has an eSIM tray or if it has an embedded eSIM chip.
Check if your phone's operating system supports eSIM technology. For example, iPhones running iOS 12.1 or later support eSIM.
Confirm with your carrier if they offer eSIM service and if your phone is compatible.
Or simply check out this eSIM supported phones list which is regularly updated with all eSIM compatible phones and devices.
One thing you need to keep in mind is that, just like with physical SIM cards, your phone also has to be unlocked to use an eSIM. If you've bought your device directly from the producer, it's likely it'll be unlocked. But, if you bought it from a carrier, it might not be.
If you have an iOS 14 or later, here's how you can check if its unlocked:
1. Going to Settings
2. Click "General"
3. Go to the "About" section
4. Scroll to "Carrier Lock" or "Network Provider Lock." If you see "No SIM restrictions," your iPhone is unlocked. If not, then it most likely means your phone is tied to a specific carrier.
If you don't have an iPhone, try putting a SIM card in and seeing if it works. This will tell you if your phone is locked. Last but not least, give your provider a ring and they can tell you whether your phone is locked.
How to install an eSIM on your phone
Ok, if you're still reading, it seems you're sold on getting an eSIM. The question now is, just how easy is it to set it up on your phone?
The first thing you'll need to do is add the new data plan by going to:
Settings > Mobile Data > Add data plan (steps may be different depending on your device)
Most eSIM providers will send you a QR code which will guide you through a number of steps. Here are some guides to setting up an eSIM on the most popular devices:
Note: If you buy a temporary eSIM plan for your travels, it's best to set it up just before you leave as your plan will start on the day you activate it.
Want an even easier option for your upcoming trips? The European provider Holafly eSIM recently launched an eSIM app that allows you to install, activate, and verify data consumption in more than 130 countries around the world. Unfortunately, the installation app is only available for iOS at the moment, but non-Apple users can still use Holafly's eSIM services.
The company offers regular data plans in over 130 countries and unlimited data plans in over 45 destinations for less than $1,50 per day including region-wide plans for Europe. They also have 24/7 support in more than 5 languages.
How to switch between eSIMs and share data
Remember, if you're traveling around the world, you can use multiple eSIMs but you can only have one or two (for iOS) activated at a time. To switch between eSIMs when entering a new country, use the following steps:
1. Go to: Settings > Cellular/Mobile Data
2. Select the eSIM you want to use (under "Cellular Plans")
3. Click "Turn on this line"
Wanna share data between different devices or with your travel companions? Just go to:
Settings > Mobile data/Cellular
Then select: Personal Hotspot
Selecting local providers and unlimited data options
Most of the major carriers now offer eSIMs, so you'll likely have plenty of options to choose from, however, local carriers often charge high roaming fees while you're abroad. To avoid that, another option is to choose a prepaid international eSIM which may offer more affordable prices.
If you take that route, you'll need to consider how many GB you'll need to last you the length of your stay. Of course, this totally depends on how much you'll be using your data. If you just plan to use it for Google Maps and the occasional search for local restaurants, you may not need as much as a newbie travel influencer looking to upload videos and stream content everyday.
Here's a handy table by Holafly with some calculations on average data usage to help you out:
The good news is, there are also some unlimited data options, particularly if you're traveling to the US. Just keep in mind that you won't be able to share or transfer data with others on this type of plan.
So if you're ready to take off on your next trip, getting an eSIM can be a hassle-free option to keep you connected, whether you're going on a multi-country adventure or a simple business trip abroad.
Get the TNW newsletter
Get the most important tech news in your inbox each week.
Content provided by Holafly and TNW
Also tagged with