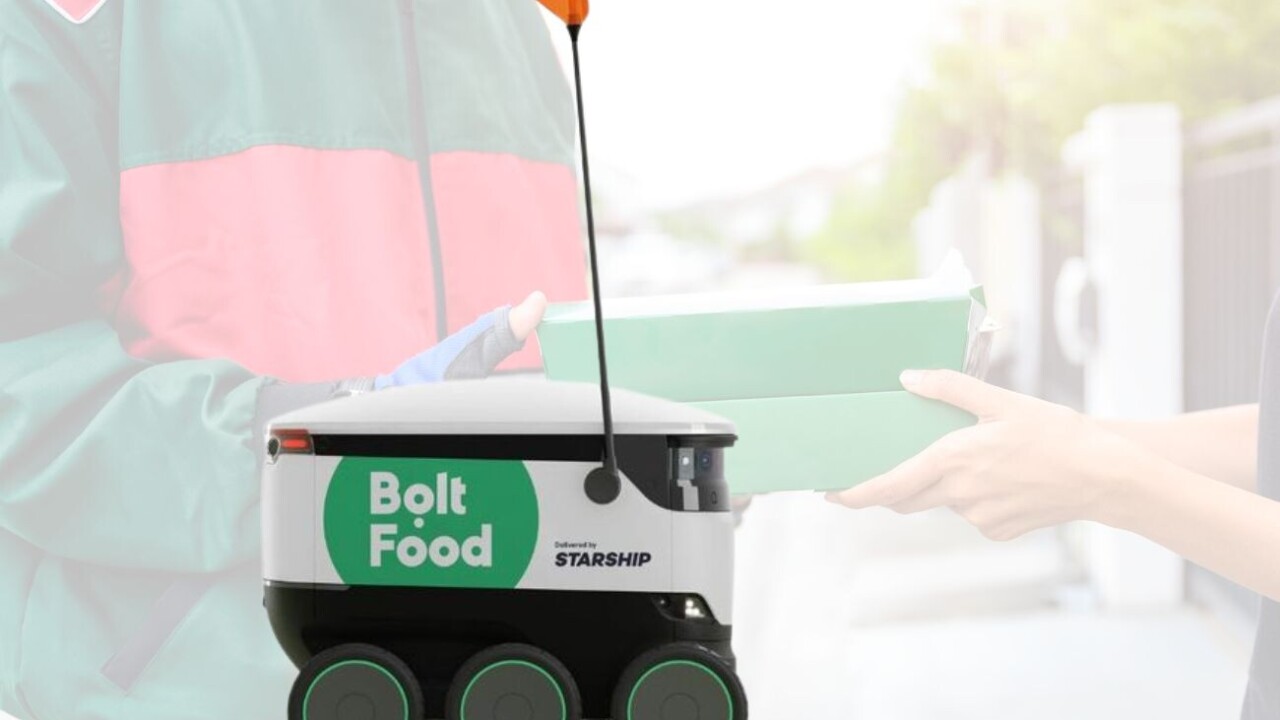 European ride-hailing firm Bolt will start using self-driving robots to deliver customers' food as part of a new partnership with fellow Estonian company Starship Technologies, announced yesterday.  
Bolt, one of Europe's most highly valued tech companies, plans to roll out thousands of the robots across multiple countries, starting in its home city of Tallinn later this year.
A competitor of Uber, Bolt has more than 100 million customers in Europe, Africa, West Asia, and Latin America. Starship, meanwhile, has completed 5 million commercial deliveries around the world, the first autonomous delivery company to do so.
"It is natural that two companies — one doing deliveries and the other building a more efficient way to do deliveries — should cooperate," said Starship co-founder Ahti Heinla, who previously worked as chief architect at Skype.    
Founded in 2013 and formerly known as Taxify, Bolt has raised almost €2bn in funding to date, with a valuation of €7.6bn. It made its name as a ride-hailing service but has since expanded into several other lines of business, including food and grocery delivery and e-scooters.
Starship, headquartered in Silicon Valley and founded by former Skype execs, has raised over €180m to date and already operates a fleet of delivery vehicles in the US and the UK. In the US the service is primarily used by college students in partnership with food delivery service Grubhub, while in the UK Starship has a similar deal with British supermarket chains Co-op and Tesco.   
"Both Bolt and Starship have created innovative products which have revolutionised the way people move around and buy and receive goods in cities," says Jevgeni Kabanov, Bolt's President. 
Starship's robots will deliver food to Bolt customers directly in the Bolt app, much like normal deliveries. Once the robot arrives at your door, you'll be able to press a button that opens it up and receive your meals or groceries.
A big appeal of the robots, which are about the size of a suitcase, is that they are emissions-free and require about the same amount of energy for one delivery as a kettle uses to boil a cup of tea.   
Since launching its autonomous delivery service in Milton Keynes, UK, in April 2018, an independent study estimates that 280,000 car journeys have been avoided, saving 137 tons of CO2 and 22kg of NOx emissions. 
"Bolt and Starship share very similar goals of promoting sustainability in local transport. In our case, we offer a convenient and on-demand autonomous delivery service, perfectly aligning with the mission of making cities more eco-friendly," said Alastair Westgarth, CEO of Starship Technologies. 
Get the TNW newsletter
Get the most important tech news in your inbox each week.
Also tagged with